What is Endeavor and Why We're Proud to be an Endeavor Entrepreneur
In December 2017, Jobsity was selected as an Endeavor Entrepreneur. This was an important milestone for our company, with our CEO Andrés Garzón noting that: "Endeavor will be a strategic partner for Jobsity in continuing to scale and reach new heights." This has been the case, as we continue to expand and help more and more organizations benefit from our nearshore staff augmentation services.
But you might be wondering a few things, like what is Endeavor? What does it mean to be an Endeavor entrepreneur? And how do you become a member? Let's take a look at some of the answers.
What is Endeavor?
Endeavor is a global network of entrepreneurs that was set up by entrepreneurs in order to support entrepreneurs around the world. Launched in 1997, the primary objective of Endeavor is to drive economic growth and job creation by selecting, mentoring, and accelerating the best high-impact entrepreneurs from across the planet. "High-impact" means those entrepreneurs that are thinking big - those with innovative business models that are seeking to scale-up their organization and transform their sector or market. In doing so, these people can support the wider community both by creating job opportunities and inspiring others.
Endeavor now reports a presence in 40 countries covering emerging market regions in Latin America, Africa, Asia, and The Middle East, as well as parts of Europe and the US. It estimates that its network of entrepreneurs has created more than 3 million jobs and generated $20 billion in annual revenue.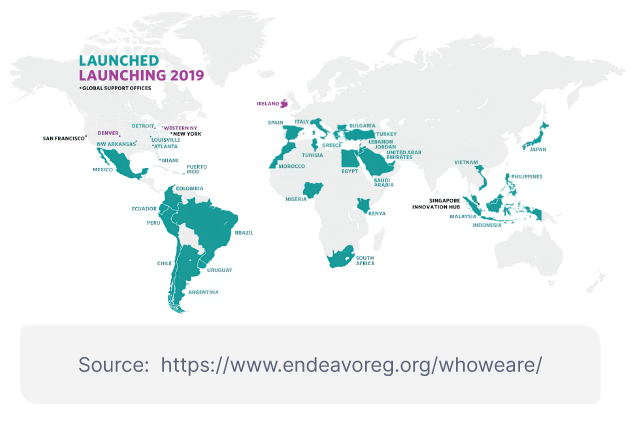 What does Endeavor do?
Identify High-Impact Entrepreneurs: The first most important task is to find those entrepreneurs or start-up enterprises that have the potential to make a difference. This means people that have developed an innovative business model that solves real-world problems, and have the ambition and talent to deliver it at scale.
Select the Right Candidates: There may be many entrepreneurs that look like strong candidates to make an impact, but only those that can make their way through a rigorous selection process will be selected to join the Endeavor network. This involves an initial screening of applications by experienced staff and mentors, followed by two stages of in-depth interviews. Short-listed candidates are then reviewed by a local selection panel and then a world-renowned international selection panel, which will assess whether entrepreneurs and their companies have real potential for scale and influence. Historically, fewer than 5% of candidates who enter the initial selection process reach the international selection panel, and only those that are unanimously approved by panel experts are selected to be Endeavor Entrepreneurs.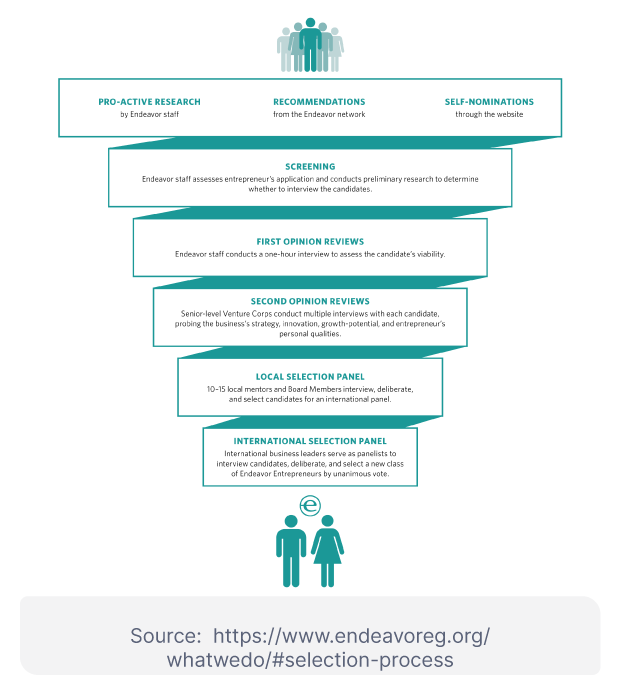 Support Growth and Development: Endeavor offers its selected entrepreneurs a range of services at a local, regional and global level. This includes high-level feedback and advice on the business model, access to a network of venture capital firms and the Endeavor Catalyst co-investment fund, training and mentoring from a diverse community of experts, and the opportunity to amplify impact as a future mentor or venture capitalist. Services are customized to fit each entrepreneur's scaleup requirements and journeys.
What Does it Mean to be an Endeavor Entrepreneur?
Given how challenging the selection process is, becoming an Endeavor Entrepreneur is a badge of honor for any organization or leader. Being part of such a vetted community also carries a lot of weight with investors, business partners and other industry leaders. In short, being part of Endeavor opens doors to the support networks that can help entrepreneurs realize their business dreams. It also helps those like-minded, high-impact entrepreneurs to share ideas and experiences that bring mutual benefits.
The other, equally important side to it is giving back. Or, perhaps more accurately, 'paying it forward'. The idea is that all current Endeavor Entrepreneurs eventually become part of the support network for the next generation of members. Founder-to-founder programs help teach entrepreneurs how to become venture capitalists or angel investors themselves, so that they can support future start-ups and entrepreneurial talent. Some Endeavor Entrepreneurs will also become board members or join local/international selection panels to help select and support future candidates. More generally, entrepreneurs can influence others by speaking at seminars, participating in research reports or presentations, or mentoring newer candidates.
Another option is to invest in the Endeavor Catalyst fund, which provides equity capital at the venture and growth stages to qualifying Endeavor Entrepreneurs. This means directly investing in the very people that the wider organization is supporting - in other words, an opportunity to 'put your money where your mouth is' while also supporting Endeavor's mission to become a financially self-sustaining organization by 2030.
Want to Become an Endeavor Entrepreneur?
The next Endeavor Entrepreneurs are sometimes found via recommendation or staff research, though anybody who thinks they have the right ideas and talent can put themselves forward as a candidate. It doesn't really matter if your organization is just getting started, has only raised a bit of capital or is already operating at a significant scale - the important thing that Endeavor is looking for is a company with room for strong growth (at least x10 current revenues) and a founder with the right mindset to deliver on this potential. It also wants entrepreneurs that will 'pay it forward', extending their impact by becoming thought leaders and role models for future generations.
If that sounds like you and your organization, then it might be time to think about an application. Remember, when it comes to quickly scaling your organization, you can count on Jobsity to connect you with the top IT talent from around Latin America. All you need to do is get in touch to find out more!
--
If you want to stay up to date with all the new content we publish on our blog, share your email and hit the subscribe button.
Also, feel free to browse through the other sections of the blog where you can find many other amazing articles on: Programming, IT, Outsourcing, and even Management.