What Are Cloud Apps, and 3 Reasons You Need Them Now More Than Ever!
In the days of the worldwide Coronavirus pandemic and the surge in popularity of remote work around the world, it's probably not the first time you've heard the term "cloud computing," and certainly not the first time you've used, or considered using, an app that's based "in the cloud."
(But in case you haven't, here's a quick catch-up with a definition from Microsoft Azure: cloud computing is "simply put...the delivery of computing services—including servers, storage, databases, networking, software, analytics, and intelligence—over the Internet to offer faster innovation, flexible resources, and economies of scale.")
While cloud computing isn't just for those making the transition to remote work, it's certainly of key importance for them. Likewise, cloud apps are less and less a "solution" for businesses trying to keep up with the speed of changes and growth of capacity in the tech space, and more and more of a requirement.
What Types of Cloud Apps Are There?
Cloud computing generally means: you run the application on your computer or phone, but the majority of the data and functionality is done elsewhere--i.e. in the cloud.
While this cloud can be private (a server your company owns), public (in a shared server online), or a hybrid (a combination of both), cloud computing usually refers to an off-site database or system run by a third-party company--like Amazon, Microsoft, or Google.
Within this, there are three types of services using this technology. Let's break them down:
1. IaaS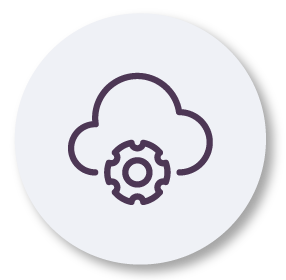 First, we have IaaS or Infrastructure-as-Service. IaaS offers businesses "instant computing infrastructure, provisioned and managed over the internet." In other words, IaaS replaces physical servers and data storage systems with "cloud-based" servers and data storage systems held elsewhere--far from your offices, site of business, or in many cases, country of origin.
Some benefits of IaaS include: if your business has the need to run web apps, complex data analysis, or large quantities of data, a robust IaaS provider (like Amazon AWS or Microsoft Azure) can maintain extremely large data capacities and even the use of super high-speed computers so that your team will never have to worry about increasing capacity themselves, or running out of space.
2. PaaS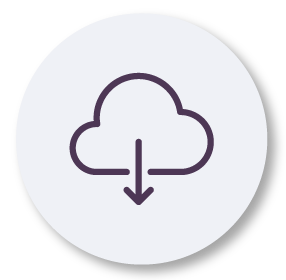 The second kind of cloud computing type is PaaS or Platform-as-Service. Like IaaS, PaaS reduces the need for your business to maintain the costly equipment required to create, test, and run applications of your own, and to set up and manage web or mobile interfaces without having to invest in servers, storage, networks, or databases. In addition to what IaaS offers, PaaS provides businesses with "middleware," which includes, database assistance and application processing services.
Some benefits of PaaS include: having the structures in place to build and develop applications without having to do so from scratch; likewise, PaaS gives business the ability to mine and analyze data without requiring external expertise; this help reduce time and staff so that your team can do the computing that's necessary for businesses every day.
3. SaaS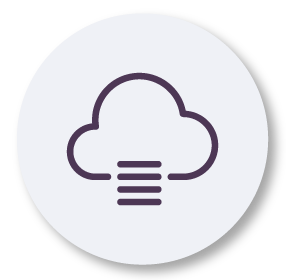 The final, and perhaps most common type of cloud computing, is SaaS, or Software-as-Service. This is the most "famous" type of cloud application because it extends beyond business needs to include consumers, as well. All the applications in the Google Suite are SaaS cloud apps, for example, Gmail, Google Drive, Google Docs, etc. This means that the hardware for running the application exists offsite, as well as the data involved, and the software in use is all online and accessible through a phone or computer.
Some benefits of SaaS include: businesses can hit the ground running with a myriad of applications on Day 1, without the need for installation, high upfront costs (many SaaS is free or on a subscription model), or a steep learning curve. Also, businesses can add or take away features as their employees' needs shift, and these apps can be accessed anywhere where there is a strong internet connection (and more and more these days, on your phone even without a strong internet connection).
What Are the Benefits of Using Cloud Apps?
As we've outlined above, cloud apps and cloud computing solutions offer several specific benefits depending on what needs you have and what applications you're using. But in general, the cloud provides the following benefits to any businesses choosing to rely on this ever-more important option:
With cloud apps, you own less, you update less, you pay less. Many of the most important cloud apps are free to individual users and inexpensive for enterprise use (like Gmail or Google Drive).
Because the cloud is a centralized place, updates can be made at the point of origin and do not need to be rolled out on every employee's computer every time a bug gets fixed. This is bound to save thousands of hours for all involved.
The cloud is a remote workers' dream: with nothing holding an employee to a specific place, or even a specific workplace, cloud apps and cloud computing mean businesses can modulate their in-person or remote work needs based on the safety and security of their employees, without missing out on productivity.
Overall, cloud apps and cloud computing aren't an innovation, so much as the central innovation of the last few years. If you're not already using them, it's far past time to explore the options. And if you are using them, but not to their full capacity, reach out and let's talk about how you could be using them more--both from a developmental perspective and to help your team work better, smarter, and more efficiently.
--
If you want to stay up to date with all the new content we publish on our blog, share your email and hit the subscribe button.
Also, feel free to browse through the other sections of the blog where you can find many other amazing articles on: Programming, IT, Outsourcing, and even Management.