How Nearshoring Can Help Manage Risk in Your Distributed Team
As software development teams are increasingly distributed across different regions, managers face new challenges to ensure projects meet the required standards and are delivered on time. This means forming productive working relationships with remote developers - building trust, maintaining fluid communication channels, and keeping everyone in the team motivated. 
It also means finding the best ways to effectively manage the risks that are a part of any software development project. Whether we're talking about security problems or quality assurance, getting things right is essential for your business' bottom line: CISQ recently found that the cost of poor quality software in the US alone was around $2.84 trillion in 2018.
The Benefits of a Distributed Team
Why would you want a distributed team in the first place? The true answer is that it depends on a number of factors, including your hiring budget, your unique circumstances, and the work that needs doing. Our free e-book offers a comprehensive cost-benefit analysis of hiring in-house vs outsourced developers, which can guide you in making the best decision for your company. But here we can look at some of the key benefits that a distributed team can offer:
1. Expand the talent pool
It's no secret that there's a shortage of software developers today, and the accelerating transition to a digitized economy means demand for reliable devs is likely to remain high for the foreseeable future. Against this backdrop, finding and attracting top tech talent in your local area will become increasingly difficult. Running a distributed team means you can seek the brightest and best anywhere in the world. You'll also increase your chances of finding specialized developers if you look beyond those within commuting distance. 
2. Save money
Expanding your in-house team can be a costly and complicated process, especially as the IT needs of an organization are likely to change over time. Using an offshoring agency to build a distributed team may be a more efficient way to bring in remote talent, particularly when you need to quickly scale-up your team's capacity and capabilities. Moreover, with the talent shortages mentioned above driving up wages in the US, smaller companies in particular stand to benefit from access to high-skilled developers at a fraction of the cost.
3. Encourage diversity
Though it can sometimes be overlooked, we think diversity is crucial to enhancing your team's culture and performance. Hiring remote workers means your team can draw on a wider range of life experiences, cultural perspectives, and technical knowledge when solving problems or finding creative solutions.      
Risk Management with Distributed Teams
There are a number of risks that can threaten the successful delivery of software development, including security concerns, scheduling problems, inaccurate budget estimates, or operational bottlenecks. Successful risk management involves identifying and preparing for potential problems before they occur. Here we'll focus on some of those risks most relevant to distributed teams, including ways to manage them. 
Cultural/Language Barriers:
While we've already identified diversity as an important benefit, we can't ignore the potential for misunderstandings due to culture or language barriers to disrupt project delivery. After all, a recent Forbes survey showed that 67% of managers working with diverse teams felt that language barriers lead to inefficiencies. The best way to contain these risks without undermining the benefits of multiculturalism is to encourage a greater understanding of different languages and work cultures, particularly among managers.
The idea of having far-flung developers that can continue working on a project while you sleep might sound appealing, but the reality isn't just about waking up to progress. Collaboration across extreme time zones is difficult: meetings will invariably be held at unsociable hours for some team members, while unexpected problems may not be fixed until the next day. This is one reason why many US companies are turning to Latin American developers as a practical alternative to traditional Asian outsourcing hubs.
Ineffective Project Management:
You can have access to the best developers in all corners of the world, but poor organization and execution can still delay or derail a project. While this is true for any team, it is especially important for a remote workplace to have clear targets and processes in place for all project stakeholders. There are a number of remote work tools that can help distributed teams maintain high-levels of efficiency and performance, thereby mitigating risks to project delivery.
Unreliable Outsourced Staff:
While it is a cost-effective option, some managers may be concerned about outsourcing projects to a team they don't know personally. The risks here are not just about performance but data privacy, security, and intellectual property. That's why it's better to use a reputable staffing firm with specialist knowledge of the local talent pool. Not only can they find the right people for the job you need doing, but they can also make the recruitment and onboarding process quick and painless. 
Don't forget that defining your risk areas is key as a manager. For example in this scenario we identified 8 possible risks:
Task Distribution

Knowledge Management

Geographical Distribution

Collaboration Structure

Cultural Distribution

Stakeholder Relations

Communication Infrastructure

Technology Setup
In this chart, we explain how to manage the risk level.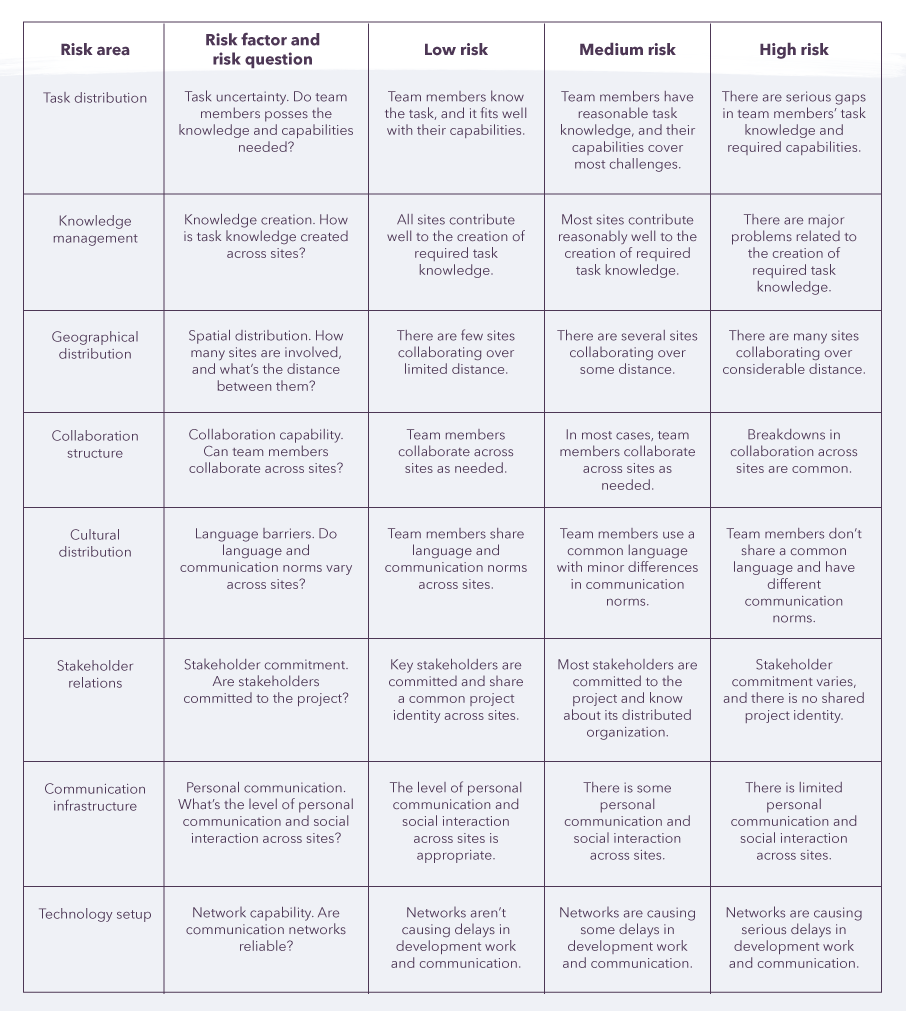 After defining your risks prepare this chart and you will find the answers on how to manage it.
The Nearshore Option
Adopting a nearshore staff-augmentation strategy is a good way to mitigate some of the risks highlighted above. This hybrid approach is about enhancing your in-house team with remote members that can quickly scale-up your work capacity or fill a specific skills gap. Keeping your distributed team in nearby countries (i.e. Latin America for US-based companies), will significantly reduce risks from culture clashes, language barriers, and time zones. It also makes it easier for managers to visit their distributed team members to develop deeper and longer-lasting relationships. And while it may not be as cheap as some offshoring options, improving the chances of successful project delivery will save you money in the long run.
Here at Jobsity, we specialize in finding top-level nearshore developers that speak English, understand US business culture, and are ready to help you take your company to the next level. So if you want to see how nearshore staff augmentation can benefit your company, just get in touch!   
Interested in hiring talented Latin American developers to add capacity to your team? Contact Jobsity: the nearshore staff augmentation choice for U.S. companies.
Santiago Castro
Santiago, COO at Jobsity, has been working on the web development industry for more than 15 years, assuming a variety of roles as UX/UI web designer, senior frontend developer, technical project manager and account manager, he has achieved a deep understanding of the development process and management, and developed strong communication skills with groups and clients. At present, Santiago runs the operations of Jobsity, managing offices in the United States, Ecuador and Colombia, leading a team of more than 100 developers, working on major projects for clients like NBC, GE, Bloomberg, Cargill, Pfizer, Disney and USA Today.
Better hires, more work, less stress. Join the Jobsity Community. Hire Top Talent