How Nearshoring Can Help You Build the Optimal Distributed Team
Back in March 2020, which now seems like a long time ago, companies across the world were suddenly forced to adapt to remote working. It was a steep learning curve for many, and on this blog we gave many tips to help organizations keep their distributed workplace positive, productive and secure. But while the initial adjustment may have been challenging, it's clear that distributed working (in some form or other) is now being evaluated as a core business model rather than a fringe job perk.
There has been a lot of talk of late about a permanent switch to 'hybrid work' - a model where some employees return to the office workplace while others work remotely. Big US tech firms are leading the way, with Microsoft, Amazon and Google all recently announcing new forms of distributed workplaces. And the concept is undoubtedly popular with workers themselves: Buffer's State of Remote Work 2021 survey found that more than 97% of respondents would like to continue working remotely (at least part of the time) throughout their career and 97% would recommend remote working to others.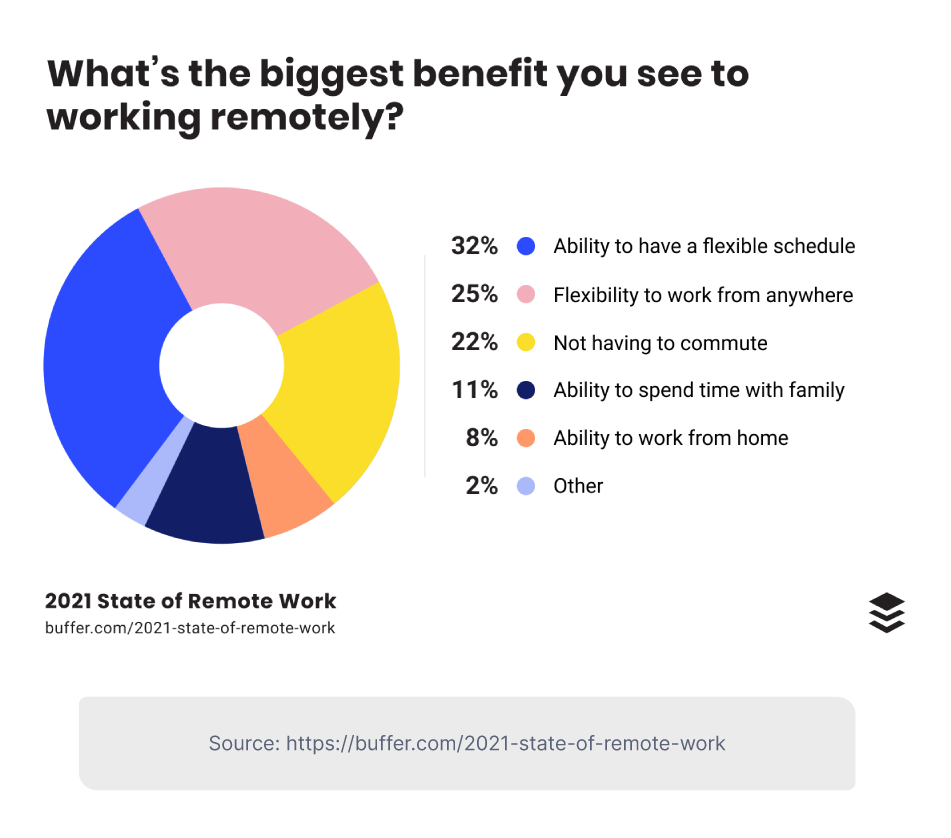 Transitioning to a 100% Distributed Business
A hybrid work set up is one thing, but what about the companies that are moving to a 100% distributed workplace? Here at Jobsity we're proud of our record operating with a fully distributed team spread across all corners of Latin America. A fully distributed workplace is more than just having different team members working from different physical locations - it's about creating an optimal team with the flexibility to quickly and easily adapt to the needs of the business at any time.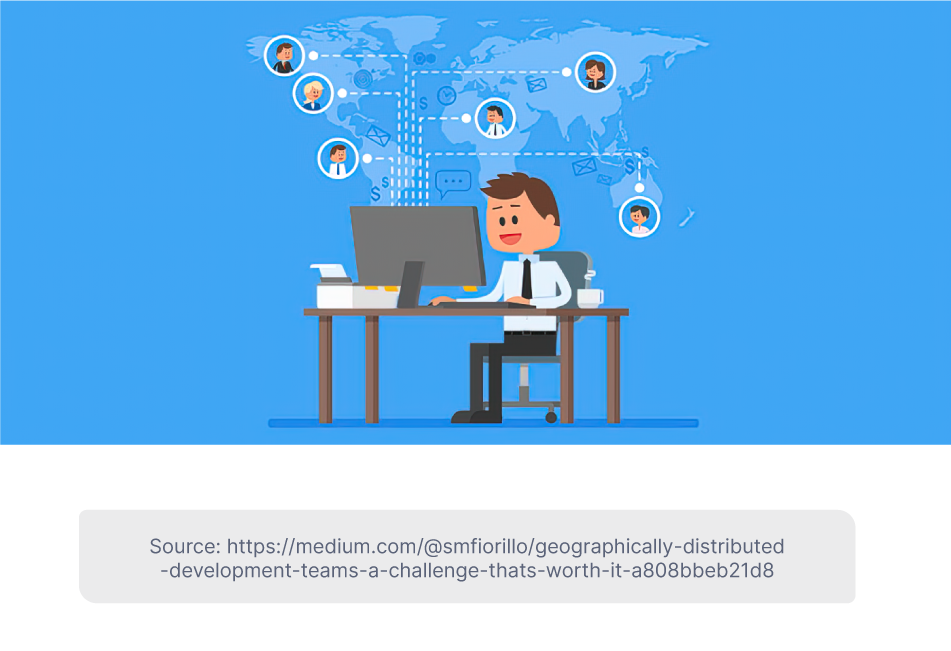 Though they obviously don't apply to every business or industry (e.g. manufacturing), these are some of the key potential benefits of moving to a 100% distributed business model.
Access to a wider talent pool: Once you drop the requirement for work to be conducted in a shared physical space, you remove a key barrier to finding talent: geography. For example, if your office is in a small town in the Midwest and you need a software developer to come and work onsite, you're going to be limited to the candidates in your local area. With remote working, talent has no borders - the right person for the job may live in another town, state or country, so why not go and find them? As an added bonus, tapping into a greater supply of qualified workers should also imply lower wage costs (see below).
Reduce costs: Switching to a fully distributed team can have an important impact on an organization's bottom line. Direct savings can be made by reducing the company's office footprint (especially if headquarters are based in an expensive city), hiring overseas talent with lower wage demands than US equivalents, and moving IT systems to lower cost cloud infrastructure. Less business travel and removing the need to relocate staff should also result in reduced costs.
Become more specialized and adaptable: The ability to adapt in a fluid business environment can give your organization a clear competitive edge. A fully distributed business can easily incorporate different types of workers - full-time employees, independent contractors, offshore teams etc. - to ensure an optimal allocation of resources at any time. Need to increase your IT capacity quickly or incorporate a new specialist skill into your tech team? A distributed workplace can use staff augmentation to seamlessly add talented workers as and when they are required.
Happy employees, happy business: We've already seen from the Buffer survey above how highly employees value flexible work arrangements. Offering employees a more flexible work schedule, with no daily commute and the ability to live wherever they want is being shown as a way to improve mental wellbeing and happiness. This, in turn, is likely to improve worker retention: another survey by Owl Labs showed 74% would be less likely to leave their employer if they were able to work remotely (at least some of the time), while 59% would choose one employer over another if they offered remote work arrangements. Few things are likely to improve your business fortunes than a highly motivated, productive and loyal workforce.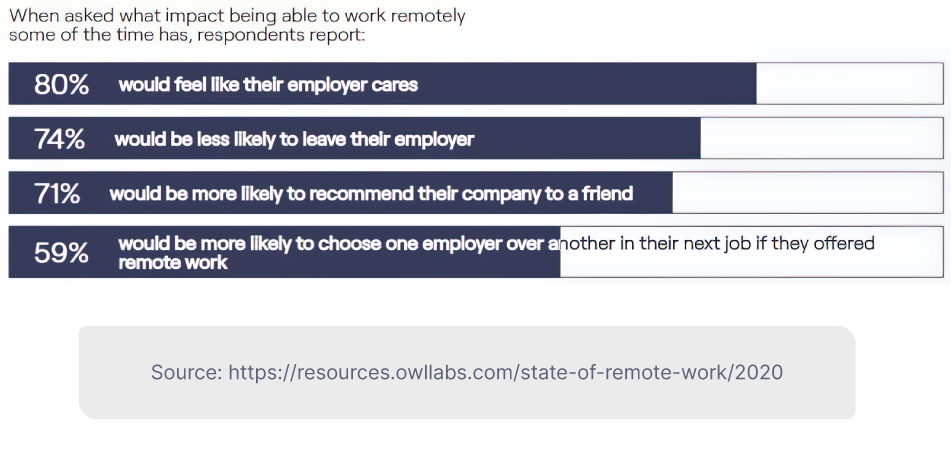 How Nearshoring can help you build the optimal distributed team
Offshoring is a key component of the distributed business model - it opens up a global talent pool, can reduce costs, and can be used strategically to ensure that someone, somewhere in the world is always working (this can be useful for 24/7 customer service). However, offshoring also comes with challenges: coordinating key software projects across different time zones can be tricky when speed is required, while language barriers and cultural differences can soon undermine working relationships.
This is why nearshoring is becoming the favored solution for distributed software development. This is simply about outsourcing some of your software development to a nearby country rather than to a country on the other side of the world. This can solve some of the common problems of offshoring:
Work in similar time zones: Being online at the same time as your software development team has considerable advantages, especially when it comes to communicating and collaborating on projects. Agile software development is the norm now, so real-time collaboration is vital to improve your chances of success. And it's not easy to hold a productive meeting when half the team is joining at 3am!
Make easy face-to-face connections: Even with a distributed team, it's sometimes important to make a personal, face-to-face connection to help foster a healthy and trusting relationship. This is much easier to do when nearshoring, as you'll likely only be a short flight away from your remote team.
Minimize cultural/language barriers: In most cases, countries in the same region will share some cultural and language overlaps. For example, if you're in North America, you're more likely to face cultural clashes or misunderstandings when managing workers in Asia than in Central America, for example. You also want to collaborate with software developers that are at least proficient in your language.
Latin America hits the nearshoring 'sweet spot' for US companies looking to expand their IT capacity. The region operates on a work-friendly time zone, has high levels of English language skills and is investing heavily in both modern IT infrastructure and a growing pool of qualified tech talent. Naturally, to realize the full benefits of nearshoring in Latin America you need a reliable partner with detailed knowledge of the local talent pool. That's where we at Jobsity come into play, with a decade of experience in finding, recruiting and training the top tech talent from across Latin America. To find out more about how these developers can help your organization, please get in touch!
--
If you want to stay up to date with all the new content we publish on our blog, share your email and hit the subscribe button.
Also, feel free to browse through the other sections of the blog where you can find many other amazing articles on: Programming, IT, Outsourcing, and even Management.