How Nearshoring to Latin America Can Drive Down Your Business Costs
One major concern for US companies - especially smaller entities and startups - is how to attract local tech talent without paying astronomical rates. A shortage of affordable software developers in the US market is why 60% of US businesses now outsource at least part of their application development in 2021, according to a recent report by Accelerance. It makes sense when you consider that these companies can benefit from developer team rates that Accelerance found to be 40-70% lower than onshore rates.
According to the recently-released Stack Overflow Developer Survey 2021, the median annual salary for a front-end developer in the US is $115,000, more than double the global median of $49,725. For back-end developers, the US median salary is $133,000 while the global median is just $56,723. Even a student developer in the US would expect to earn around $70,000 a year, more than the global median for all types of software developers, data scientists, and IT project managers.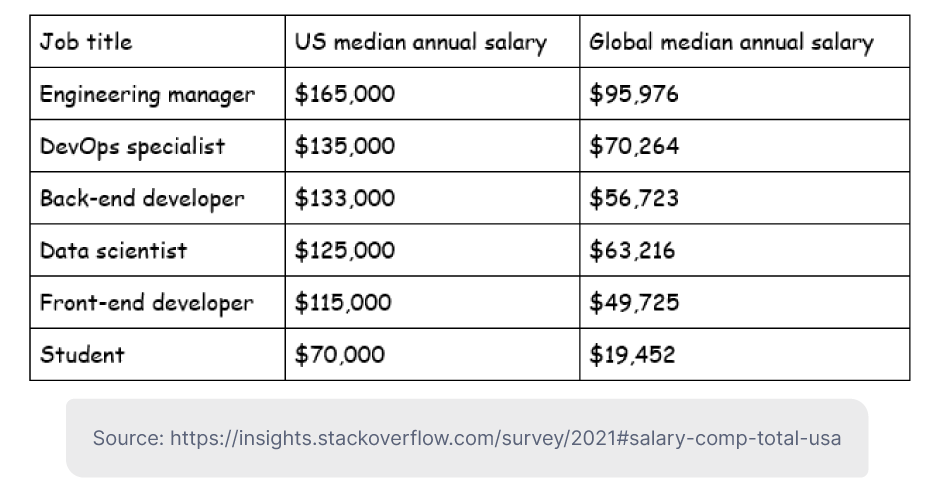 Why Latin America is a good choice for nearshoring
Back in 2009, a report by KPMG stated that: "Latin America's importance as a provider of global IT and business process outsourcing services is growing given its proximity to the U.S., language skills, telecommunications infrastructure and tax incentives." Though the global financial crisis and more recently the Covid-19 pandemic have caused widespread disruption to business conditions, Latin America has indeed emerged as a global IT outsourcing powerhouse over the last decade.
This is particularly the case for the US companies, which have discovered the benefits of partnering with Latin American tech and staffing firms to drive down operating costs and enhance their IT capabilities. This can be seen clearly in the rise of several 'Silicon Vallecitos' - Latin America's tech and innovation hubs that are drawing in investment, start ups and entrepreneurial talent from around the region (and world).
Here are some of the most important reasons why nearshoring to Latin America is a cost-effective way to expand your US business operations.

1. Attractive rates
Latin America may not be quite as cheap as some outsourcing hubs in South-East Asia, but it certainly compares favorably to the US. Just look at the median annual salary for a software engineer in major Latin American cities (around $25,000-$35,000) compared to New York (around $93,000) and San Francisco ($114,500).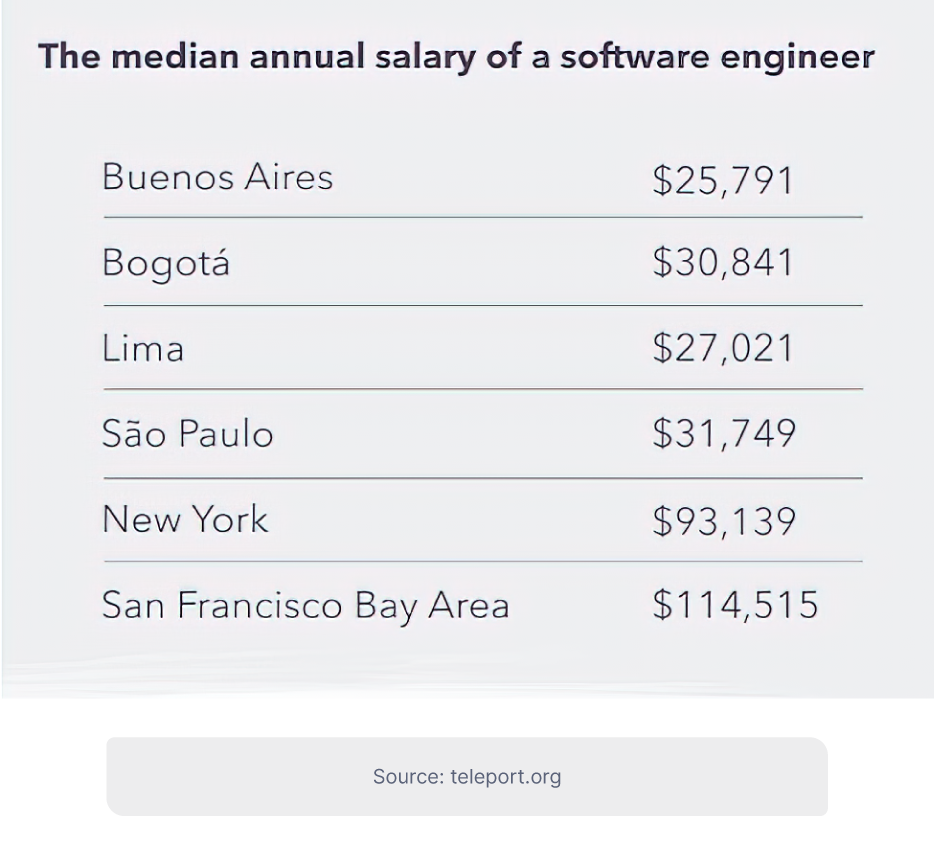 You can also expect lower office rental costs in Latin American cities, if you end up setting up a physical presence in the region. Latin America has also embraced the global trend towards coworking and shared offices, with the supply of flexible office space growing 230% over the last decade, above the 196% growth in the US.

2. Time Zones
This is where Latin America really stands out as an optimal nearshoring choice for US companies. Colombia, Ecuador, and Peru all line up in the same time zone as New York, making them ideal nearshoring options when it comes to workflow. The rest of Latin America is closely aligned to US time zones, sharing 4-7 hours of the standard workday. There are no 10-13 hour time differences down here!
The main benefit from this is a shorter response time and more fluid communication. It may sound ideal to have devs in Asia working on your projects while you sleep, but what happens when an unexpected issue arises or you have an urgent question for a developer? You may be waiting until the next morning just for an answer, and if it's not resolved immediately, it could be another day before a fix is in place. Having a dev team on the same clock as you means you can expect these little problems to be sorted before they become bigger problems - a sure-fire way to drive down costs.
Moreover, we are strong believers that real-time communication and interaction help foster a more dynamic and productive working relationship to the benefit of all parties.

3. Strong English skills
According to language school EF's English Proficiency Index (EPI) for 2020, several Latin American countries now score higher than traditional outsourcing hubs like China and India, or even newer emerging hubs like Vietnam and Ukraine. Argentina is the only Latin American country with a "high" ranking for English skills, followed by Costa Rica and Chile. The region's EPI average is 480, above the Middle East's 441 and just behind the Asian average of 492. Moreover, 12 out of 19 Latin American countries improved their score in 2020, a sign that investment in English teaching is having an impact.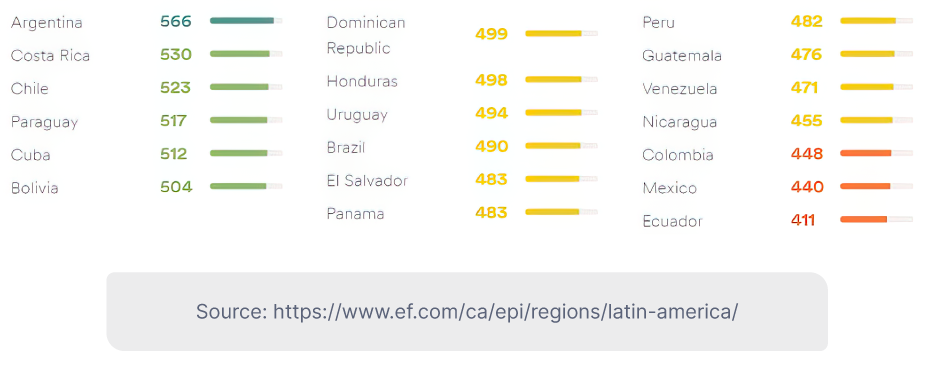 How does this help your bottom line? Simple. Better English means fewer misunderstandings, fewer mistakes, and fewer costly fixes.

4. A deepening pool of talent
When faced with a shortage of domestic labor, it helps to have a population of more than 642m people lying just to the south. Aside from a large overall labor market, Latin American universities are also churning out talented tech graduates year after year, making it easier to find the talent that just isn't readily available any more in the US. Latin American governments are also investing heavily in internet and mobile infrastructure, closing the gap with the US and creating a new generation of tech-savvy youngsters that are affordable.

5. Cultural connections
It may not sound like the most important thing when considering who can help with coding and development work, but strong historic links and cultural overlaps do help make collaboration easier among in-house and outsourced tech staff. If the cultural fit is bad, there's a risk of things being misinterpreted, of mis-matched expectations or of other disruptions to the project. Being able to share a joke or cultural reference is part of what makes a workplace a friendlier and more enjoyable place to be - and that keeps teams stronger and together for longer.
--
If you want to stay up to date with all the new content we publish on our blog, share your email and hit the subscribe button.
Also, feel free to browse through the other sections of the blog where you can find many other amazing articles on: Programming, IT, Outsourcing, and even Management.